About
Bonnie's practice involves domestic relations, civil and commercial mediation,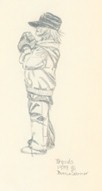 arbitration, and other forms of alternative dispute resolution, including med-arb, settlement conferences, early neutral evaluation, fact finding, and Collaborative Law.  Her practice also includes drafting nuptial, domestic partnership and civil union agreements and dissolutions, as well as extended family probate disputes.
Bonnie is highly respected in the legal community, and has earned Martindale-Hubbell's highest rating – AV.   She is a former chair of the Executive Council of the Family Law Section for the Colorado Bar Association (CBA), and remains an active member of the Executive Council, the CBA Board of Govenors, and the Executive Council of the CBA Board of Governors.  She was selected to membership in the Best Lawyers in America and is a Colorado Super Lawyer.
Bonnie is assisted by her exceptional paralegal:
Sarah Alford is a highly-skilled paralegal, who has worked in the field for 48 years.  You will know her voice the minute she answers the phone, and you will appreciate her skills shortly thereafter.  Sarah hails from "West by-god Virginia."